More info
All data listed in the chart are for the specific items in the series(this root Elevator is only NO.1):
| | | |
| --- | --- | --- |
| Size | Describtion | Use |
| NO.1 | Straight Blade ,2mm | For apical and/or interproxximal |
| NO.2 | Curved Blade,3mm | For general use/staeter |
| NO.3 | Straight Blade ,3mm | For interproximal |
| NO.4 | Contra angle,3mm | For lingual and/or distal-molars |
| NO.5 | Inverted Curved ,3mm | For general,lingual and/or distal |
| NO.6 | Curved Blade,5mm | For large molar roots-general use |
| NO.7 | Straight Blade ,5mm | For interproximal |
| NO.8 | Dual Edge/Straight,3mm/1.5mm | For deep fracthured and decayed roots |
| NO.9 | Dual Edge/Straight ,5mm/3mm | For deep fractured and decayed roots |
Single Root Elevator Box-Sterilization
Chemical
Safe and sanitary
Autoclave.Dry Heart 180℃
Resistent to high temperature
Prptect the Root Elevator in cleanse,sterilization and storage
Root Elevator - operating instructions
Place your index finger along the axis of the blade,making the depth or required penetration.Thus the index finger serves as an occlusal stop.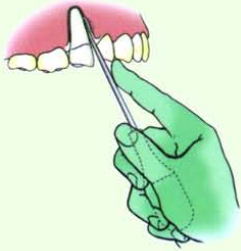 1. Place the tip axially in the periodonta.

2. Proceel spaced with a slight twisting action to gently drive the tip into the socket.The thin and sharp tip cuts
ligaments whilst compressing the bone and raising the tooth gently from the socket .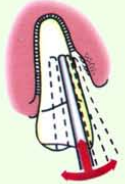 3. Continue to two-thirds of the depth of root keeping close to the root wall.Avoid snagging the root.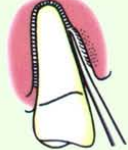 4. If root remains firm ,repeat on the other side until.
Note:
The tip of luxator is extremely fine and sharp and can be damaged if used as an elevator.The tip is not designed for strong for strong elevating sorces.